Church News
Sharing the Journey
Let us always count our many blessings and be a blessing to others every day. Make plans to enjoy the fall season and the exciting opportunities for ministry. Be sure to notice the beauty of God's creation everywhere. The fall season is a good time to reach out to others with the love of Jesus Christ. Take time to reach out with kind, encouraging words, a card, a call and a visit today. Let us strive to be the feet and hands of Jesus Christ. Contact someone missing from church service and let them know you would love to see them at church soon.
Invite family, friends, and neighbors to bring children to Trunk or Treat on Wednesday, October 31, from 5:30 until 7:30 PM. If you can come and decorate a trunk, help pass out candy, help in any way, you are needed!
Remember Thanksgiving Day is Thursday, November 22. Come and fellowship together and invite someone to come with you for the luncheon following the worship service on November 18. We have many blessings to be grateful for that include physical, material, and spiritual.
Plan to come and enjoy an evening of gospel music on Sunday, November 11, at 6:00 PM. The gospel group, Sunday Drive, will be in concert. They will sing about Jesus Christ and His love. Invite people to come with you. Also on the 11th, the Christmas Child Shoeboxes will be collected. You are encouraged to participate in this special missions project to help many children around the world. They receive shoebox gifts and the opportunity to accept Jesus Christ as their personal Lord and Savior.
Please continue to pray for the many people in need in North Carolina and South Carolina. Thank you for praying and giving to help meet the needs there. Remember our friends in New Bern, NC.
"Count your many blessings, see what God has done." To God be the glory. Amen.
Blessings and peace,
Pastor Joe Psalm 100
Church Council Meeting
The purpose of the Church Council is important to the operational activities and programs of the church. The responsibilities of the council are:
Recommend to the church suggested church objectives and goals.
Recommend to the church action plans for reaching church goals.
Provide on a quarterly basis a calendar of events for church activities.
When necessary, appoint a Pastor Selection Committee with the advice and assistance of the departing pastor, and recommend the committee to the church.
Assist the Nominating Committee in filling vacancies in leadership positions during the year.
The Church Council will meet Wednesday, October 3, at 5:30 p.m. Come prepared to plan and coordinate events for the church calendar to April 2019. Those on the church council include: Pastor, Deacons Chairperson, Music Director, Stewardship Chairperson, Sunday School Director, WMU Director, and Youth Coordinating Chairperson. Other committee chairpersons are encouraged to attend if they have items to add to the calendar.

2019 BUDGET REQUESTS
The Stewardship Committee is beginning the process of working on the 2019 OLBC budget. All committee and organizational chairs are asked to submit their budget requests for the 2019 calendar year by Sunday, October 7. Place your requests in the Stewardship box in the Sunday School office or give them to Ben Morris, Ken Turner, or Donna Winebarger. The 2019 budget will be presented on the first Sunday in November. Any changes to the budget will need to be addressed at the November 14th business meeting. The 2019 budget will be presented for adoption on Sunday, November 18th.

HENRY COUNTY BAPTIST ASSOCIATION ANNUAL MEETING
The Annual Meeting of the HCBA will be held on Tuesday, October 16, 2018 at Fort Trial Baptist Church. Registration begins at 4:30 p.m. followed by a meal at 5:00 p.m. The evening session will begin with pre-service music at 6:00 p.m. The guest speaker will be John Upton, Executive Director, BGAV. Messengers representing the church are Betty Jo Foley, Joe and Kim Glass, Ben and Peggy Morris, Martha Sue Meeks, Donna Winebarger, and Sue Young. Everyone is welcome to attend.

Fall Back
Don't forget to turn your clocks back one hour before you go to bed on Saturday, November 3rd!

Deacons' Meeting
There will be Deacon Nominations on Sunday, June 17. Start now to prayerfully seek God's guidance on who He is calling to serve you at Oak Level Baptist Church. Current deacons serving are: Jesse Cannaday (rotating off), Betty Jo Foley (rotating off), Lance Frith, Ben Morris, Lee Pettit, Elmer Stone (rotating off), Donna Winebarger, and Sue Young (rotating off).

31 Bingo
There will be a Thirty-One Bingo event on Saturday, October 13, from 6-8 PM, hosted by Katrell Ramsey, Thirty-One Independent Director. Doors will open at 5:30 PM. The cost will be $20 for 20 games. Children 12 and under will be $10. There will be a Hot Dog Dinner and concessions available for purchase also. All profits will be given to OPERATION CHRISTMAS CHILD of Samaritans Purse.

CHILDREN/YOUTH PUMPKIN CARVING
All children and youth are invited to participate in a pumpkin carving event on Saturday, October 27, from 2-4 PM. Each person needs to bring you're their own pumpkin. All other supplies will be provided. Prizes will be awarded!

Trunk or Treat
The church is hosting Trunk or Treat this year outside on the church parking lot weather permitting on Wednesday, October 31st from 5:30 – 7:30 PM. Everyone is invited to decorate their trunks, wear a costume, and give out candy to the children. If you are unable to attend Trunk or Treat, please donate individually wrapped candy. For more information, see Missy Thompson.

Veterans Meal Fundraiser
All Veterans are invited to eat free on Saturday, November 3, from 4:30 – 7:30 PM. For non-veterans the cost of the meal will be $7. The meal will include Hamburger Steak, Baked Potato, Cole Slaw, Rolls, Dessert, and Drink. All proceeds will benefit God's Pit Crew.

Thank You
We can't begin to express how much it meant to us for the many expressions of sympathy shown through food, visits, phone calls, and cards. Your kindness and care brought comfort, relief and peace-of-mind during this difficult time. Thank you, Art and Betty Jo Foley

Color Run for Jesus
The Youth Coordinating Committee is sponsoring a Color Run for Jesus on Saturday, November 10, from 1:30 – 3:30 PM. Participants need to wear a white shirt. Prizes will be awarded. A rain date for Saturday, November 17 has been scheduled, if needed. See anyone on the committee for more information.

Gospel Singing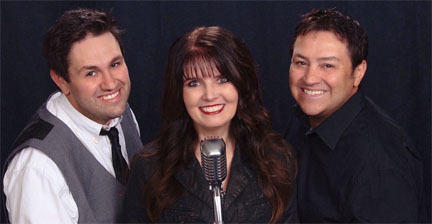 Sunday Drive is coming to Oak Level Baptist Church.Begininviting friends, family, and neighbors now! This trio is known for their family harmony, warm, smooth voices and humor. They are coming for an exciting musical event on Sunday, November 11. From Tennessee, Jeff Treece, Misty Treece, and Dusty Treece make up this award-winning trio. Their Godgiven talent has garnered them numerous awards including Album of the Year, Song of the Year, Vocal Group of the Year, and many others. Sunday Drive has a unique ability to communicate through song and humor creating an experience you won't forget. They have shared the stage with The Oak Ridge Boys, The Gaithers, Big Daddy Weave, David Crowder Band, The McKameys and many more. This concert will begin at 6:00 PM. Make plans now to join Sunday Drive at Oak Level Baptist Church for an awesome event filled with a life changing message. There is no admission charge, but a Love Offering will be collected.
Thanksgiving Meal
A covered dish Thanksgiving meal will be held on Sunday, November 18. After a service of sharing about blessings from God during the year, we will gather together around the table in the Church Fellowship Hall. Bring your favorite dish to share as we celebrate this Thanksgiving season.
---
FOCUS ON WMU

WMU Meetings & News
Tuesday – October 23– 6:30 p.m.
Tuesday - November 27 - 6:30 p.m.
Horne Home
Thank you, Esther, for promoting and collecting the funds for the Horne Home. OLBC gave a total of $400!
CBF Global Missions Offering - Seeking Transformational Development
OLBC 2018 Goal: $2,000
Offering Received - $1238.00

HC WMU FALL FLING
The Henry County WMU will have a Fall Fling on Saturday, October 13 at FBC, Collinsville. Registration will start at 8:00 am with a breakfast to follow, Come hear about various ministry opportunities in and around Henry County and Martinsville. All ladies, youth and children are invited to attend. There will be door prizes and more. Watch the bulletin for a time to gather and leave the church as a group.
SHINE

CrossRoads Camp and Conference Center
An Event for girls – middle schoolers and
high schoolers and their leaders!
Due to the predicted forecast of Hurricane Florence SHINE has been rescheduled to October 12-14. All of the same amazing speakers, breakouts, and activities will be taking place with hopefully less wind and rain! This year's theme is "All People, All Nations, One Purpose". Please pray for Esther, Brianna, and Heaven as they attend this amazing weekend with other girls from all over Virginia!
OLBC Goal - $900.00
Amount Received To Date - $285.00
Operation Christmas Child
Collection and blessing of the Operation Christmas Child Shoeboxes will be Sunday, November 11. If you have any items to be donated, please have them to the church by November 4th. Any monetary donation can be given to Betty Jo Foley. These will help defray the cost of shipping the shoeboxes.
WOMEN'S GET-AWAY
WOMEN'S GET-AWAY Nov. 2-3 and 3-4, 2018 Eagle Eyrie Conference Center Be sure to register for the Women's Get-Away in November. The theme for this year is JUST US WOMEN – TAKING IT TO HEART. Get Away promises to be a wonderful time of fellowship with other Christian sisters. A time of inspiration. A time of equipping for missions. A time of personal development and a time for fun! Our keynote presenters are Missionary Regina Sudheer of India and Brooke Holloway who is one of our leading young adult Baptist women in Virginia. The Praise Team from Agape Baptist Church of Portsmouth will bring our music. The link to register is http://wmuv.org/getaway. There will be over 20 breakout sessions and much more! Contact Donna Winebarger for more information.
WMUV inspires and equips women to influence the world for Christ.
---
SCHOOL CLOSINGS FOR INCLEMENT WEATHER
The Wednesday evening service is NO LONGER tied to the notice of schools closing for inclement weather. The church office will send out an email IF there has been a decision to cancel Wednesday services or you can call the office or a deacon to verify the cancellation. For announcements concerning Sunday Morning Services, listen to B99 FM radio or watch TV Stations, WDBJ, Channel 7 or WSLS, Channel 10, for possible church cancellations.

THE GRACE NETWORK OF MHC
OLBC is just one of over one hundred congregations and other groups that partner with Grace Network to help families in crisis in Martinsville and Henry County. "Grace Network strives to give short-term assistance and to help find long-term solutions." Each month we can help needy families by giving nonperishable food items, toiletries, cleaning supplies, and paper products. Check out the church bulletin to see what OLBC has pledged to give. You can be a part of this ongoing mission when you donate to this worthy cause. Visit their website at www.gracenetworkmhc.org to learn more.

Sharing the Love
Each week our folks are visiting friends throughout the community to let them know we love and care for them. Sometimes it is to sit and pray with someone suffering from injury or illness and unable to get out. At other times it's to get to know neighbors in the area and to introduce them to the ministries of Oak Level, if they do not have a church home of their own. In every instance it is another opportunity to go in the name of Jesus in order to be an ambassador of love. If you have never experienced the joy of visiting others or meeting new friends in this way, please know that you are more than welcome to join us. Visitation times are flexible according to your schedule, and there are plenty of folks that you already know who would be honored to go with you. Contact any deacon or the pastor for more information.

Newsletters
We publish our newsletter at Oak Level Baptist Church every two months. If you would like to have a copy, please feel free to download one of the newsletter PDF files.

October - November 2018 Newsletter (in PDF format)
June - July 2018 Newsletter (in PDF format)
April - May 2018 Newsletter (in PDF format)
February - March 2018 Newsletter (in PDF format)
December 2017 - January 2018 Newsletter (in PDF format)
October - November 2017 Newsletter (in PDF format)
August - September 2017 Newsletter (in PDF format)
June - July 2017 Newsletter (in PDF format)
April - May 2017 Newsletter (in PDF format)
February - March 2017 Newsletter (in PDF format)
December 2016 - January 2017 Newsletter (in PDF format)
October - November 2016 Newsletter (in PDF format)
August - September 2016 Newsletter (in PDF format)
June - July 2016 Newsletter (in PDF format)
April - May 2016 Newsletter (in PDF format)
February - March 2016 Newsletter (in PDF format)

For older PDF newsletters, please click to visit our Archive page.